If you look at my calendar
you would think it is a mess.
The same could be said for my car,
the basement, my desktop, and the laundry room.
My hope is that upon closer inspection,
you might be able to look past
the insanity, the yogurt splashes,
the boxes, the piles of shoes –
and see who I am.
The messes are messes, yes,
but there's likely a reason they are there
and they don't define who I am.
This is also true for my personality flaws –
and yours –
they are there for a reason,
but they don't define
who we are.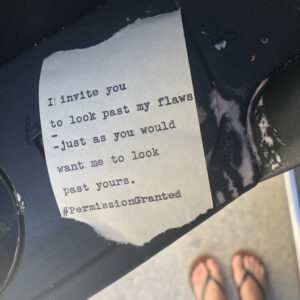 I invite you to look past my flaws –
just as you would want me to
look past yours.
I also wish for you to help
me with my messes –
just because stubbornness
and a yogurt-splashed car
are a part of my life
doesn't mean
I can't make changes.
We are not forced to
stay in a mold
we can change,
morph,
grow
into people who pursue their best –
not just for their own sakes
but for the world around us.
Let's give each other permission –
to be who we are,
right where we are…
but let's also give permission
for others to speak
into the spaces where we
need to grow.
#PermissionGranted