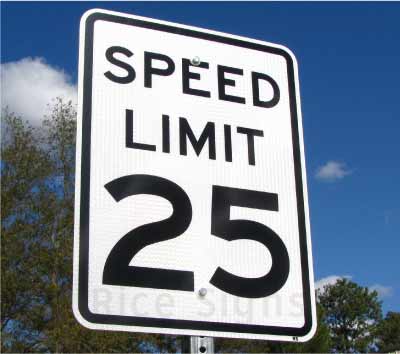 And there it is again.  The sign.  The speed limit sign that advertises the result of meeting my minivan.  Sigh.  I pass it every day.  I sense it mocks me as it leans at approximately a 65 degree angle; which means it is a very obvious not 90 degree angle.  My coffee distracted me and in a matter of two seconds the sign and the van were well acquainted.  I say the same refrain each time I pass the sign, "Yep, hello sign.  I see you.  Don't worry, we won't meet again.  Yes, I know I did that to you.  Trust me, it wasn't on purpose and if I could undo it, I would."
Even though the van no longer shows the damage from the run in, thanks to a generous sum of money, the reminder of my mistake is waiting for me every day.  I feel remorse and not a small amount of chagrin each time I turn down the road the sign is on.  "Hi, reminder of my failure.  Thanks for being there each and every time I turn on the street.  I so appreciate your consistent dedication to shaming me."
It's amazing what a distracted second will cost you.  I am thankful it wasn't any worse but I am tired of acknowledging the sign; weary of revisiting the moment when I looked down at my coffee and then heard an awful sound.  I'd rather forget the moment of stepping around the car and seeing the damage I had done.  My father-in-law said it was the neatest, cleanest accident he had ever seen.  At least I did something right…  I am sure people drive by and wonder what crazy person ran into the sign.  It was this crazy person.  I guess I needed a reminder that distracted driving is never a good idea.  I get it.  I understand that there are habits I need to change.  But there's still this one issue.  The sign, remains…steady in it's commitment to remind, to shame.
I was away from home visiting North Carolina for just over a week.  We turned down the road the sign was on and I braced myself for the scolding the sign would shout as we passed it.  We approached the spot and the sign was laying flat on the ground!  Someone had run over the sign!  I rejoiced!  (I feel for your car, people, I really do!)  I've  been released!  The sign that held my emotions hostage each time I drove by has been obliterated!  The van is fixed and the sign has been 'fixed' too.  I felt an instant release.  The sign no longer has power over me or my emotions.  Now that I think about it, I no longer even acknowledge the presence of the sign as I pass it, the lesson remains, but the gnawing shame is gone.  And now, all I feel is forgiven.
This lesson on distracted driving was a costly one, as many life lessons are.  I got an extra lesson and it was about forgiveness; how the slate can be wiped clean, the offense no longer remembered.  I was given a beautiful picture of forgiveness in the midst of crumpled metal. I saw and felt forgiveness obliterate my mistake, erase my shame and usher me into freedom. And now, all I feel is eternally thankful.