Isn't it selfish to want to embrace passion, purpose,and possibilities?
HELL NO.
Permission was
granted long ago.
You were created
on purpose
for a purpose.
Let's go.
Take up your space, girl!
#PermissionGranted
Weekly emails and Blogposts
"It is a strange gift, this birthright of self. Accepting it turns out to be even more demanding than attempting to become someone else! I have sometimes responded to that demand by ignoring the gift, or hiding it, or fleeing from it, or squandering it – and I think I am not alone."
~Parker Palmer, author, educator, activist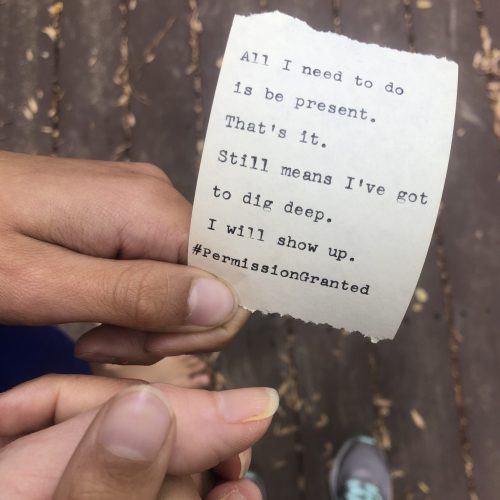 It's always been true.  I am not what I do.  I am not the sum of  what I check off  on the to-do list.  I've always believed that, even if sometimes I've  not acted like it.  And I am struggling  to remember. Here in this time.  Here in this space.  I am not what I...
read more
"Bethany has an eye for the exquisite in everyday life and her unique writing style shows it. It is at once poetry and prose—an imperfect blend of rhythm and reckless abandon of writing rules that works just perfectly. I predict she could be the Ann Voskamp of her millennial generation. I admire her thoughtful words. She always takes me on a little flight to see the extraordinary that she finds in the ordinary."
~ Chris Moss, speaker and expert on bringing the generations together
Invite Bethany to Speak at your next event
We are each called to take up our space. One of my favorite things to do is to remind women that they are created on purpose, for a purpose. I'd love to speak to your group to remind them permission to pursue our individual purpose, passion, and possibilities was granted long ago.